Private Safari Lodges inside the Kruger National Park
These lodges are on private concessions inside the national park itself. The private concessions range in size from Five to Fifteen thousand hectares - spread throughout the park.

Camp Shawu
Camp Shawu is an intimate 4-Star camp tucked away deep in the belly of the Southern Kruger National Park. With only five luxurious open-plan suites, Camp Shawu only hosts up to ten guests at a time, adding exclusivity to the experience. The lodge overlooks the Mpanamana Dam, where animals often convene.

Camp Shonga
Camp Shonga is Champ Shawu's sister camp. Like Shawu, Shonga also consists of only five guest units. However, Camp Shonga's suites are constructed in a luxury tented style for a more rustic and authentic safari atmosphere. Guests enjoy twice daily game drives in open-air 4x4 vehicles.

Hamiltons Tented Camp
Hamiltons Tented Camp is one of the finest 4-Star properties in the Greater Kruger area. Its 'Out of Africa' tented camp ambiance is inherently romantic, and the game viewing within the concession is incredibly rewarding. Here, in the central Kruger, you will find many herds and the predators that pursue them.

Hoyo Hoyo Safari Lodge
Hoyo Hoyo Safari Lodge, Hamilton's sister lodge, offers fantastic value-for-money four-star safari accommodation. The Big Five game viewing experience at Hoyo Hoyo is enhanced by the lodge's 'Tsonga village' style. Even staff members dress traditionally to augment the unique cultural experience.

Imbali Safari Lodge
Imbali Safari Lodge is the third lodge on the concession. The concession on which Hamiltons, Hoyo Hoyo, and Imbali are located on different stretches across 10 000 hectares of prime Kruger real estate, where only the lodges' vehicles are allowed to conduct game drives. Imbali hosts twelve spacious suites with private plunge pools or Jacuzzis.

Jock Safari Lodge
Jock Safari Lodge is a plush 5-Star property in the southern Kruger National Park. Unlike most lodges in Kruger, Jock is well-equipped for family safaris, offering programs specifically for children. In addition, to open 4x4 game drives, guests can enjoy San rock art excursions, guided bush walks, and stargazing.

Lion Sands Narina Lodge
Lion Sands Narina Lodge forms part of the exclusive Lion Sands collection, which boasts some of the finest properties in the Greater Kruger. Narina consists of nine ultra-luxurious suites with spacious private decks and plunge pools. All suites enjoy stunning views of the prolific Sabie River, where animals often come to drink.

Lion Sands Tinga Lodge
Lion Sands Tinga Lodge is Narina's sister lodge. The lodges are very similar in their offerings, as Tinga also boasts nine sumptuous suites with private pools overlooking the Sabie River. Two game drives are conducted daily, with an optional bush walk available. Only the two lodges' vehicles may traverse the 5000-hectare concession.

Lukimbi Safari Lodge
Lukimbi Safari Lodge is a fine 5-Star property with 16 suites (twelve Classic and two Premier) in the wildlife-rich Southern Kruger National Park. The lodge overlooks the seasonal Lwakahle River. Between open-air 4x4 game drives, guests at Lukimbi can unwind poolside, in the health spa or library.

Pafuri Camp
Pafuri Camp is a relatively new offering in the northern Kruger's Makuleke concession. The Camp is extensive, with 19 luxury tents and 7 tented family units. Pafuri overlooks the perennial Luvuvhu River and is a fantastic destination for birders, as the rare Pel's Fishing Owl is often spotted in this area.

Plains Camp
Plains Camp is a walking safari-oriented camp in the heart of the Kruger National Park. Guests are accommodated in four African explorer-style tents. Days are devoted to exploring the 15 000-hectare concession on foot, learning more about this storied wilderness and its captivating inhabitants.

Rhino Post Safari Lodge
Rhino Post Safari Lodge is Plains Camp's luxurious sister lodge and offers traditional game viewing in open-air 4x4 vehicles. The 5-Star lodge hosts eight luxury units within a concession that shares an unfenced border with Mala Mala and Sabi Sand, offering some of the most rewarding sighting opportunities in the park.

Shishangeni Private Lodge
Shishangeni is a spacious 4-Star lodge that can host up to 44 guests. Located in the southern Kruger National Park, the game viewing opportunities on its 15 000-hectare concession are superb. Pampering spa treatments and a swimming pool, gymnasium, library, and conference facilities are available.

Singita Lebombo
An accolade shared with its sister lodge Singita Sweni, Singita Lebombo is the most luxurious private safari lodge in the Kruger National Park. The opulent property offers 15 loft-style suites equipped with every imaginable luxury. In addition to game drives, guests may partake in guided bush walks, fishing, and even archery.

The Outpost
The Outpost is inarguably the private Kruger Park lodge with the most dramatic views. Perched on a clifftop in a 28 000-hectare private concession in the northern Kruger, The Outpost offers unique sightings on game drives. Bush walks are also available, and notable locations like Lanner Gorge are explored.
Safaris Conducted from Oasis of Luxury in the Wilderness
When booking a safari based at a luxury lodge, you are spoiled in opulent surroundings characterized by magnificent natural settings and high levels of personal service.
All game drives are on open 4X4 vehicles accompanied by resident rangers and trackers. These game drives are typically conducted during the early morning, shortly after sunrise, and late afternoon/early evening. Each game drive has a duration of approximately three hours.
Find Safari Packages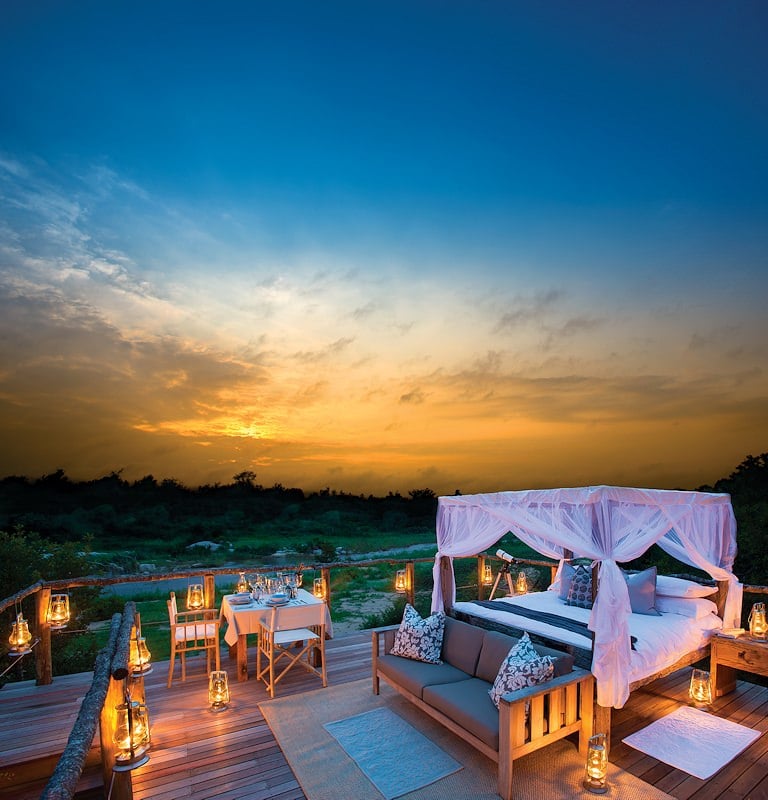 Sabi Sand Safari Lodges
The Sabi Sand is the oldest of the private reserves that form part of the Greater Kruger National Park. It has gained a reputation internationally as the finest private reserve for a luxury Big Five safari.
Private and Exclusive Wildlife Encounters
Those experiencing the African Wilderness from a base at a private lodge are in for one of the most unique and rewarding travel experiences on offer in the world today.
The merging of remote locations, small intimate accommodations, and the opportunity to view the mammals of Africa in their natural surroundings is a soul-southing adventure that will leave you refreshed and invigorated. Ready to face the challenges of the modern world.
Kruger's private lodges cater to various budgets, one of which is sure to meet your specific requirements.
View Lodge Rates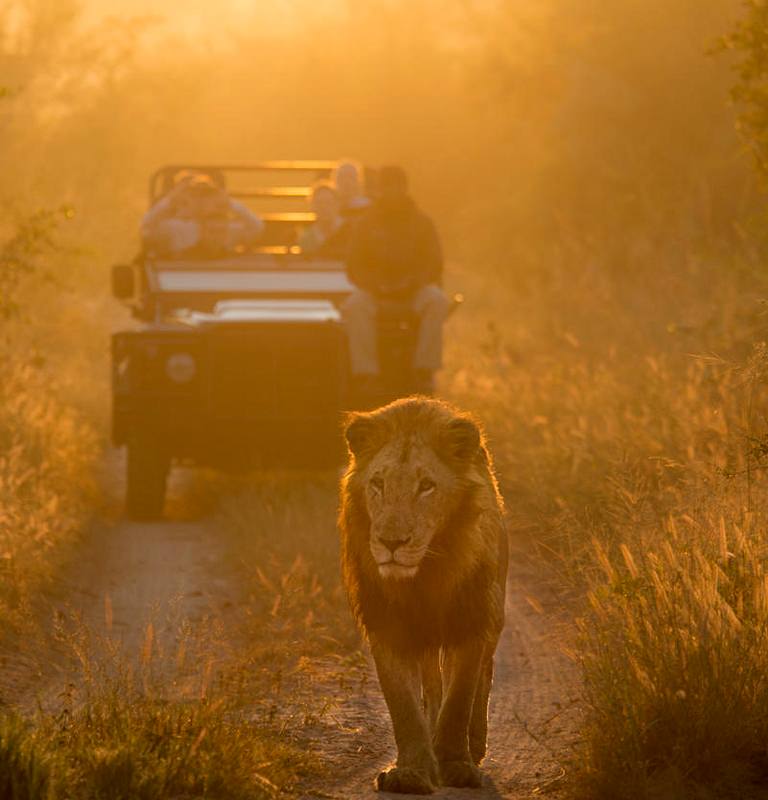 Timbavati & Klaserie Safari Lodges
Though not as famous as the Sabi Sand, the Timbavati and Klaserie offer safari experiences similar to those of the Sabi Sand. These reserves also share an unfenced border with the Kruger National Park, and as a result, both are home to the 'Big 5.'