African Safaris by Country
The countries in the south of Africa offer diverse natural encounters in areas ranging from lush wooded savannahs to scenic desert landscapes. National Parks and Private Reserves dedicated to conserving Africa's wildlife and habitats are abundant, as are unique and enriching safari experiences.
Luxury Safaris
Few luxury travel experiences in the world compare with an opulent safari in Africa. Small intimate camps and lodges set in magnificent wilderness areas from where daily safari activities bring guests in close contact with African wildlife typify these adventures.
View Luxury Safaris
Safari Overview
An experience like no other - discover the beauty of Africa's distant places.
An African safari conjures up images of wild lands roamed by various great mammals, picturesque sunsets, and a sense of being in harmony with nature. Few other travel experiences are surrounded by the safari's mystique, romance, and adventure.
South Africa
Kruger National Park | Sabi Sand | Shamwari | Phinda
Botswana
Chobe National Park | Okavango Delta
Namibia
Etosha National Park
Mozambique
Gorongosa National Park
Zambia
Victoria Falls | South Luangwa | Kafue
Zimbabwe
Victoria Falls | Mana Pools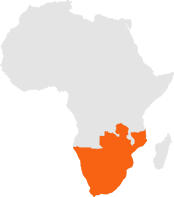 Top Safari Destinations
Few other safari destinations compare with those listed below in terms of variety of wildlife, extraordinary landscapes, and a primordial sense of man's dependence on nature.
View all Destinations
Memorable Experiences
The Big 5 arguably inspire the most awe amongst Africa's myriad wildlife, but there is much more to encounter. You could meet thousands of Cape fur seals at Cape Cross, marvel at choruses of birds across the continent, and view hippos and crocodiles in Africa's waterways. Get up close with the formidable great white shark, walk side by side with the world's fastest land mammal, and wonder at the abundance in this corner of the world.
View All Experiences
Packages to Popular Conservation Areas
We offer safari packages to the top wilderness areas in Southern Africa. These destinations provide bewitching landscapes, as bare and breathtaking as Namibia's desolate dune sea and as lush and ample as the drenched drama of the Okavango Delta. Wherever you choose to roam, with African Sky, it is sure to be magical.
Help Plan My Safari
Activities
The most popular activities enjoyed on safari in Africa.
Lodges
Lodges of various comfort levels offer the ideal bases for exploring African conservation areas on daily safari activities. They lie in vast wilderness areas and range from basic but comfortable to some of the world's most opulent accommodations.
South Africa
Namibia
Botswana
Mozambique
Zambia
Zimbabwe
View Safari Lodges
The Journey
From the planning stages to your departure from Africa, you are in the care of an experienced team who will make your journey a hassle-free and enriching experience. In the case of a fly-in safari package, we offer expert advice and manage the logistics of your trip. If you book a private overland safari in South Africa or Namibia, one of our expert guides accompanies the adventure.






We just returned from the third trip planned by African Sky Safaris & Tours, which we postponed four years due to health and then COVID, which required them to rework the itinerary each year. This trip took us to two safari camps in Botswana and two safari camps in South Africa. The camps were all 5-star, the guides were outstanding, and all the planning was perfect. This time we saw several cheetahs in both countries for the first time and, for the first time, a pack of wild dogs playing in the grass. Our guides knew the area and also worked to find the white lions of South Africa and the black rhinos. We highly recommend African Sky Safaris and Tours.
Bill & Ellen Sachs, USA
Read More Reviews
Animals You can View on Safari in Africa
In addition to the Big Five, many antelope, predators, and small mammal species grace the wilderness areas of Africa.
View More Animals
Best Safari Packages
The African safaris below offer the finest combination of remote wilderness areas, fantastic lodgings, expert guides, and rewarding game viewing. These safari packages cater to a range of budgets and special interests.

Spirit of Southern Africa
21 Days
From:
ZAR 69,270
pp
Luxury 5-Star
Code:
S08
Our most comprehensive African safari visits four countries, three entirely different safari areas, and bucket-list destinations like Cape Town and Victoria Falls.

Three Countries  & Cape Town
18 Days
From:
ZAR 69,270
pp
Exclusive Top-End
Code:
S01
This ultra-luxurious safari and tour combination explores the finest wilderness areas in South Africa, Botswana, and Zambia before ending in South Africa's beautiful the Mother City of Cape Town.

Botswana Buzz
12 Days
From:
ZAR 69,270
pp
Personal 4-Star
Code:
S46
A private overland safari adventure travels across northern South Africa into Botswana through some of this country's wildest areas. The Chobe safari is the cherry on the cake.

Cape Town to Victoria Falls
10 Days
From:
ZAR 69,270
pp
Personal 4-Star
Code:
T15
An affordable 4-Star safari and tour combination that ticks off three fabulous bucket list destinations - Cape Town, the Kruger National Park, and the awe-inspiring Victoria Falls

Cape Town & Sabi Sand
7 Days
From:
ZAR 69,270
pp
Exclusive Top-End
Code:
S06
Experience South Africa's two premier destinations while relishing each area's most plush accommodations. No luxury is spared on this exclusive top-end African safari.

Kruger Park & Private Lodge
5 Days
From:
ZAR 69,270
pp
Combination Safari
Code:
S32
Savor the best of both worlds when you combine a privately guided overland Kruger Park safari with some time spent at a luxury safari lodge for a more luxurious experience.

Best of Southern Africa
15 Days
From:
ZAR 69,270
pp
Exclusive Top-end
Code:
S02
The most memorable and rewarding two weeks. You'll stay at all the most sought-after safari lodges in Botswana, gaze upon Victoria Falls, and relish a safari in the Sabi Sand.

Botswana's Finest & Falls
12 Days
From:
ZAR 69,270
pp
Exclusive Top-end
Code:
S03
An African safari dedicated to only the best. Savor wild and wonderful Botswana's most enchanting safari areas and lodges before having your breath taken away at Victoria Falls.

Three Country Safari
12 Days
From:
ZAR 69,270
pp
Luxury 5-Star
Code:
S10
Three unique Southern African countries, four awe-inspiring safari areas - the Greater Kruger's Sabi Sand, Matetsi in Zimbabwe and Chobe, and the Okavango Delta in Botswana.

Highlights of Namibia
9 Days
From:
ZAR 69,270
pp
Luxury 5-Star
Code:
S12
Make your way across the vast Namib Desert on a nine-day adventure that visits Windhoek, Swakopmund, Sossusvlei, and Etosha - all of Namibia's most sought-after destinations.

Kruger's Finest Fly In
7 Days
From:
ZAR 69,270
pp
Top-End 5-Star
Code:
KP01
One of our most exclusive African safaris, the Kruger's Finest Fly-In, couples South Africa's premier safari lodges - Rattray's on Mala Mala and Lion Sands Ivory Lodge - in one opulent package.

Kruger Park & Victoria Falls
7 Days
From:
ZAR 69,270
pp
Personal 4-Star
Code:
S15
Two of Southern Africa's most desired destinations feature in this week-long African safari that will appeal to travelers with more moderate budgets and keen interests.

National Park Private Safari
15 Days
From:
ZAR 69,270
pp
Private Overland
Code:
S29
Explore South Africa's top Big 5-hosting national parks and your own African Sky guide. This safari includes Kruger National Park, Hluhluwe-iMfolozi, Addo, and Pilanesberg.

Northern Namibia Private Safari
10 Days
From:
ZAR 69,270
pp
Private Overland
Code:
S43
An unforgettable privately guided overland adventure in Namibia that combines seaside Swakopmund, the ancient art of Twyfelfontein, and the incomparable wilderness of Etosha National Park.

Kruger Park & Zululand Safari
9 Days
From:
ZAR 69,270
pp
Private Overland
Code:
S30
This safari couples two of South Africa's premier Big Five safari destinations - Kruger Park and Hluhluwe-iMfolozi. The private guide will enhance the safari adventure.

Southern Namibia Overland
7 Days
From:
ZAR 69,270
pp
Private Overland
Code:
S42
Experience Southern Namibia's highlights on an unforgettable privately guided overland safari that visits the Fish River Canyon, the Aus and Luderitz area, and the captivating Sossusvlei.

In-Depth Kruger Park Private Safari
7 Days
From:
ZAR 69,270
pp
Private Overland
Code:
S31
Three distinct areas of the two million-hectare Kruger National Park are explored on this week-long private safari getaway to South Africa's most sought-after wilderness destination.

Kruger Park Explorer
5 Days
From:
ZAR 69,270
pp
Private Overland
Code:
S33
A short - but unforgettable - adventure in Kruger. The days are spent enjoying as many privately guided game drives as you wish. Kruger Park is synonymous with African safaris.