African Tours & Safaris
Quality Personal Service Since 1998
Help me Plan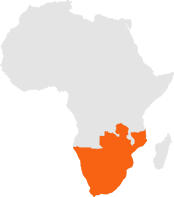 Book the safari tour package of a lifetime with African Sky, a small, experienced tour operator based in Africa. We offer customizable travel adventures. Reviews of our services are available on TripAdvisor and Google Reviews. African Sky provides expert advice, and our guides conduct all private tours.
Welcome to African Sky
Let us utilize our extensive knowledge, experience, and exceptional guides to make your holiday in our part of the world an enriching and memorable experience!
Find Your Perfect Safari Tour Package
Luxury Travel - Personal Service
African Sky offers both luxury travel and more reasonably priced alternatives. Our services are focused on the countries of South Africa, Botswana, Namibia, Zambia, Zimbabwe, and Mozambique. With over 25 years of experience conducting safari tours in Africa, you will be dealing directly with a professional company that employs well-qualified and trained individuals.
Independent African Tour Operator
25 Years Experience
Quality African Tours & Safaris
Local Staff With Hands-on Insight
Exceptional Guides
Committed To Clients
Flexible
Real Experts
About Us
Countries in Southern Africa
The countries in Southern Africa to which African Sky offers travel services. We provide extensive travel information about the destinations in each country and offer several pre-designed itineraries for each. If none of these packages meet your approval, we can create a custom travel experience based on your requirements.
View all Countries & Destinations
Top Destinations
The finest travel destinations to which African Sky offers tours and safaris.
Popular Travel Experiences
You will surely find an experience that is well-suited to your preferences.
View All Experiences
Best Private African Tours, Honeymoons, and Safari Packages
These are the finest safari & tour packages available today. Itinerary categories include fully guided, partly guided, and fly-in safari packages. An experienced African Sky guide conducts private guided tours.
Why Choose Africa for your Vacation?
1
Just Getting Away From It All
For most travelers, the purpose of a vacation is to take a break from one's everyday life, to be stimulated by new surroundings, cultures, scenery, and experiences - visiting distant lands that might and probably will offer new perspectives on that which occupies the mind. If this is your idea of a relaxing getaway, few places are more remote yet accessible. Few offer a wider variety of cultures, vastly different geographical landscapes, or more adventure activities to choose from than the countries of Southern Africa.
2
Tranquility of Africa's Wild Places
The African wilderness is magical in so many ways. Enjoy sunrise over the vastness of Namibia's dune sea. View an elephant mother shielding her little one from the rest of the herd as they approach the banks of the Chobe River in northern Botswana or listen to the sounds of night while enjoying a glass of wine around a crackling fire in South Africa's Kruger National Park are soul-enriching experiences.
3
Be Spoilt for Choice
You have a great variety of choices as far as lodgings are concerned, ranging from comfortable and affordable to luxurious and exclusive. The range of experiences on offer and the locations where you can enjoy them is equally diverse. Destinations range from the vibrant city of Cape Town to the endless sun-scorched expanse of the Etosha Pan in Namibia. They can be as leisurely as relaxing on a tropical beach in Mozambique and as exhilarating as encountering lions on a bush walk in the Sabi Sand.