KwaZulu-Natal is South Africa's most diverse province, offering grand mountains, fine tropical beaches and exceptional Big Five wilderness areas.

KwaZulu-Natal is a marvelous destination, as it offers so many unique attractions and natural regions within relative close proximity to one another. It is an ideal family vacation destination, offers some of the best golf courses in South Africa, game viewing in some of the oldest reserves in the country and a long stretch of sub-tropical coastline washed by the warm waters of the Indian Ocean.
The province is also home to a great number of historical sites and battlefields spanning several conflicts, not least being the Anglo-Boer and Anglo-Zulu wars. From Blood River to Isandlwana and Rorke's Drift, history buffs are sure to find a visit to KwaZulu-Natal an enriching experience.
| | |
| --- | --- |
| Capital | Pietermaritzburg |
| Largest City | Durban |
| Population | 10.7 Million |
| Area | 94 361 km² |
| Main Languages Spoken | English, Afrikaans, Zulu, Xhosa |
| Famous for | Mountains, Beaches, Wildlife & Battlefields |
Vacation Options
We offer a wide range of vacations in KwaZulu-Natal, from family-friendly beach vacations to historic battlefield tours.
Reasons to Visit
Mountains
The largest part of the Drakensberg, South Africa's only great mountain range, lies in KwaZulu-Natal. The area offers many outdoor pursuits, including golf, horse riding, fly fishing and a host of other activities. It is an ideal destination to visit with family, as activities abound for both old and young. The high elevation ensures a malaria-free environment.
Battlefields
The main battlefields are located around the towns of Dundee and Vryheid in the northwestern part of the province. These historical skirmishes played an important part in shaping the history of South Africa and colonial England. At Isandlwana, the mighty British army suffered its greatest defeat at the hands of indigenous peoples.
Beaches
Lovers of sun, sand and sea will find KwaZulu-Natal's seemingly endless stretch of coastline a very inviting beach vacation destination. The many hotels and guest houses of varying levels and price ranges will ensure that you are able to pick a holiday that suits your specific budget.
Wildlife
Hluhluwe-iMfolozi, Mkuze, Ithala, St Lucia and Thembe Elephant Park are national parks located in the province, with great game viewing and comfortable accommodation. Those seeking a more luxurious safari can opt for the Phinda or t Mkuze Falls private game reserves.
Useful Info
Getting There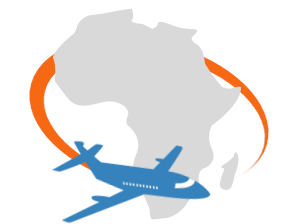 By Air
Durban Airport provides easy access to the north and south coasts, as well as to midlands area. The battlefields and Drakensberg are a drive of about four to five hours from Durban. Richards Bay Airport should be considered by those wishing to visit the game parks of northern KwaZulu Natal. There are several daily flights from Johannesburg to both of these airports.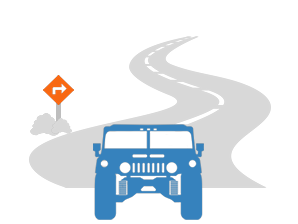 By Road
Traveling overland from Johannesburg to Durban is a drive of about seven to eight hours with one or two stops. It is recommended that those choosing this option should consider overnighting in the northern Drakensberg, which lies roughly halfway between Johannesburg and Durban.
Weather & Best Time To Visit
The game areas of northern KwaZulu-Natal are best visited during the cool winter months from May to August. At this time, game viewing is at its finest. The summer months are excruciatingly hot in this region. The beaches of the province are popular during the spring, summer and autumn months from September to the end of April.
The Drakensberg region as well as the primary battlefields can be visited throughout the year. These areas have temperate summers and some very unique activities during the winter months when snow is a relatively frequent occurrence.
Medical Considerations
Malaria is endemic to northern KwaZulu Natal, and it is advisable to consult your physician about anti-malaria prophylactics that will be suitable for you.
Health & Safety
It is prudent to consult local experts about areas in Durban that should and should not be visited. Like any major city, crime can be a problem.
Experiences to be Savored
The below experiences to be savored barely have anything in common beyond their location in KwaZulu-Natal, which tells you all you really need to know about this lush province's exceptional diversity of attractions and activities.

Dolphin Watching
The north coast of KwaZulu-Natal is also known as the Dolphin Coast. Watching a pod of these graceful marine mammals dancing about in the surf is simply delightful. In some places, it is also possible to swim with these regal creatures.
Nesting Turtles
From November to early February, the beaches in the far northern part of KwaZulu-Natal provide nesting grounds for both loggerhead and leatherback turtles. They can be seen at St Lucia, Sodwana, Kosi Bay and Lake Sibaya.
Haunting Isandlwana
The rolling green hills surrounding the Isandlwana battlefield can be quite haunting on a windy day, with piles of rocks marking the spots where many British soldiers and Zulu warriors perished in one of the great battles of the Anglo-Zulu War.
Transportation
If you are traveling on a private overland tour in KwaZulu-Natal, it will be in an air-conditioned vehicle that may vary depending on the size of your traveling party. All our vehicles are comfortable and adhere to strict safety standards.
If, on the other hand, you are staying at one of the private game reserves in the province, like Phinda or Mkuze, game drives are conducted on open-air 4x4 vehicles, that have been specifically modified for these purposes.
Foods to try when visiting KwaZulu Natal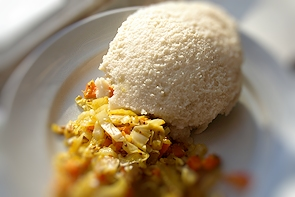 Local Seafood
Fresh fare from the Indian Ocean is available throughout the province. Cob, galjoen and yellow-fin tuna are some of the delicious line fish species on offer. Those who like shellfish will be spoiled for choice.
Curries
Durban has a large Indian population that have brought with them traditional curry recipes from all the regions of India. Over the years, local flavors have been introduced to these old favorites, making the variety of curry dishes very unique.
BUNNY CHOW
Bunny chow is a local invention. Half a loaf of bread is hollowed out and traditionallt filled with an vegetarian bean curry. The bread is then used to to scoop and eat the delicious curry. Varieties that contain lamb curry are also popular.
PHUTU
Phutu is a staple of the Zulu people of KwaZulu-Natal. It is a coarse, dry porridge made from maize meal, salt and water. The recipe involves slow cooking with a limited quantity of water in order to get the desired consistency. It is normally served with meat or milk.
Resources
Recommended Reading
Hluhluwe-iMfolozi Park (Great Game Parks of Africa) - Charlton-Perkins
Discovering the Battlefields of the Anglo-Zulu War - Ken Gillings
A Guide to the Drakensberg - August Sycholt
FAQ
Are there any good diving Spots in KwaZulu-Natal?
Sodwana Bay in the northern part of the province is generally considered to be the finest diving location in South Africa.
What are the best destinations for a beach Vacation?
Umhlanga and Ballito just north of Durban offer good beaches, a variety of hotels and guest houses. Both of these destinations are easily accessible from the King Shaka Airport.
Which golf courses would you recommend?
Golf courses that can be recommended include Durban Country Club, Zimbali, and Prince's Grant, as well as Champagne Sports Resort and San Lameer.
Which game parks offer the finest safari in KZN?
If you wish to stay in a national park camp, Hluhluwe-iMfolozi's Hilltop Camp is the best choice. For a fine private game reserve experience, Phinda and Mkuze Falls should be considered.
What family activities are available in the Drakensberg?
These are almost too numerous to list! The most popular are horse riding, hiking, fly fishing, quad biking, paint ball and leisure sports like tennis and badminton.
Is Durban worth a visit?
If you have limited time in the province, it is probably better to spend your vacation time on the North Coast, in the wilderness, in the mountains or pursuing the history of the region in the battlefields of northern KwaZulu-Natal.
Is Malaria a concern?
If you will be traveling north of the Tugela River, it would be prudent to take anti-malaria precautions.
Will there be WiFi and mobile phone coverage?
For the most part, the answer would be yes, the exception being the far northern parts of the province like Thembe Elephant Park.
Who should consider a battlefields tour?
Anyone with a keen interest in history and the way in which military outcomes have shaped this history will find a tour of the battlefields most rewarding and insightful.
Should I opt for a Self-Drive or Guided Holiday when visiting KZN?
Self-drive holidays may be more reasonably priced, but will not provide as comprehensive and rewarding an experience.