Overview
Dinaka is a great place to view distinctive Kalahari wildlife, such as the regal black-mane Kalahari lions, swift cheetahs, and mysterious brown hyenas.
Price Per Person Sharing From:
From: POA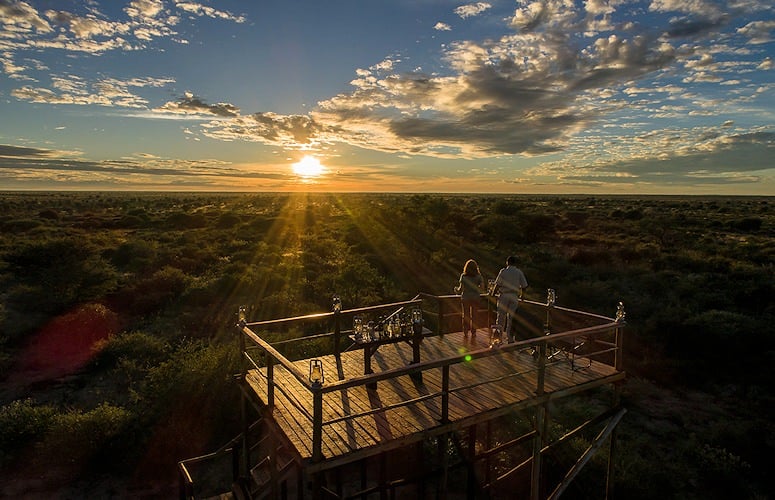 Highlights & What to Expect
Guests can spot the Big Five- lions, leopards, elephants, rhinos, and buffaloes- in this largest of all Africa's game reserves.
Experienced guides accompany daily game drives, traversing vast landscapes searching for elusive predators and graceful herbivores.
Guests can take night drives, where they can discover the mystifying nocturnal creatures and their fascinating behaviours.
Take night drives to discover the mysterious nocturnal creatures and their fascinating behaviors.
Guided bush walks provide a unique opportunity to interact closely with the environment, observe smaller wildlife, and learn about the complexities of the ecosystem.
Birdwatchers will be enthralled by the diverse avian life at Dinaka, home to over 350 bird species, including colorful kingfishers and majestic eagles.
Engage with the local San community and gain insight into the traditions and lifestyles of some of the world's last hunter-gatherers.

Location & Setting
In the Central Kalahari Game Reserve, Dinaka (meaning horns) sets the stage for an exceptional safari experience. The reserve is well known for its expansive landscapes, sweeping grasslands, and varied ecosystems that provide ideal habitat for various wildlife. Dinaka's atmosphere is a tasteful fusion of calm and energy reflected in how guests interact with nature and wildlife.

Rooms
The lodge provides eight tented suites, one of which is a family unit. In the wilderness, en-suite bathrooms offer contemporary fixtures and amenities like double vanities and inside and outside showers. The decor combines natural materials, earthy tones, and traditional accents to reflect the rustic elegance of the African bush. Private verandas that extend from each room offer a tranquil setting where guests can relax and take in the sights and sounds of the bush.

Facilities
The camp's stylish lounge and bar area is a comfortable place to unwind and mingle, while the well-stocked library offers a tranquil haven for those seeking quiet reflection. Dinaka also has a photographic bunker, providing the opportunity to capture exceptional wildlife photos. The raised wooden decks overlook a waterhole, and the camp features a swimming pool.
Amenities
Shuttle

Bar

Restaurant

Swimming Pool

Wifi

Activities
Game Drives

Bush Dining

Bird Watching

Bush Walks

Stargazing

Bush Picnics

Night Drives

Culture Tours