The countries of Southern Africa generally tend to experience very hot summers and mild winters.
Summer - October to February
During summer, temperatures will range from 10 to as high as 40 degrees Celsius (50 - 104 F). Destinations including Pilanesberg, the Kruger National Park, the Free State and the Little Karoo are characterized by a dry heat and commonly include magnificent late afternoon thunder showers with dazzling lightning storms, which bring much relief after a hot day in the sun. Humidity increases towards the coastal regions of Southern Africa, such as KwaZulu-Natal, Mozambique, Swaziland and the Eastern Cape, and you can expect a fair amount of rainfall. The Cape Peninsula, including Cape Town, the winelands and the Garden Route, experience less rain in summer and temperatures are milder with less humidity than other parts of the country, although it is very common to experience "four seasons in a day" in this region. It is also very common to experience mild to extreme windy conditions in the Eastern Cape and Western Cape regions.


During the summer months, we recommend shorts and t-shirts, comfortable sandals and a cap/hat if you are sensitive to the sun. Make sure that you bring along a decent fleece, even in summer. Sunglasses are also recommended throughout the year. Lodges do not expect you to arrive for dinner in full formal wear, and collared shirts in conjunction with jeans and closed shoes will be accepted at every establishment. Generally speaking, the higher the standard of the lodgings the more 'formal' your attire is expected to be. Breakfasts are generally casual affairs and clothing in accordance with the day's activities will be appropriate.
Autumn - February to April
Autumn is considered to have some of the best weather conditions throughout South Africa. Temperatures are not as extreme as winter or summer, being mild and warm with generally less rainfall in all regions. The Cape region, most notably Cape Town, offers a very moderate and pleasant climate during this season. Many landscapes are transformed into rich, golden brown hues, providing some great photographic opportunities.
Winter - May to July
Winters in South Africa range from mild, summer-like days in Mpumalanga to very cold conditions in the Free State and the Karoo, including occasional snow on the peaks of the Drakensberg Mountains. During winter it is almost guaranteed not to rain and skies will be bright blue and clear. The exception is the Cape, which experiences rainfall during this season. It is not uncommon to experience very cold and wet weather in this region.




Temperatures during this period will range from 0 - 25 Celsius (32 - 77 F) and it will be pleasant in the low-lying eastern parts with little humidity.
We recommend that you 'dress to undress' during winter. Mornings will be very cold but as soon as the sun breaks the horizon temperatures will begin to rise steadily. It is advisable to have warm clothing readily available at all times during winter as temperatures are known to suddenly drop overnight from mild to very cold. Please be aware that indoor heating is not common in South Africa, therefore in winter it might be colder indoors than you expect it to be.
Winter is known as the "dry season" in South Africa and game viewing is generally much better in places such as the Kruger National Park, due to the thin brush and milder temperatures which draw the animals out into the winter sun.
Spring - August to October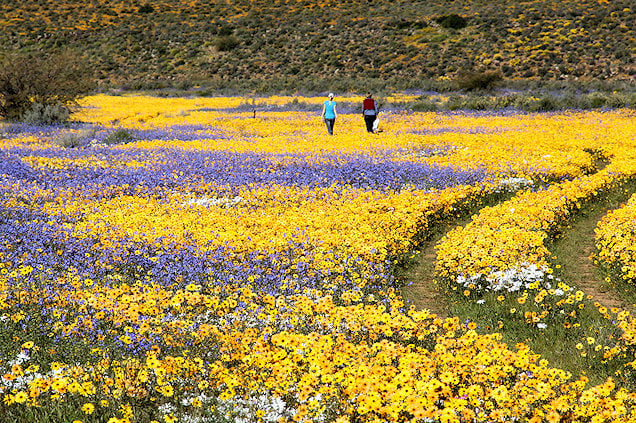 The arrival of spring brings with it a magical transformation of the country and landscapes. The Cape floral regions, such as Namaqualand, are covered with a kaleidoscope of hundreds of thousands of colorful wild flowers. During spring, whales can be seen breaching the waters of the Western Cape in towns such as Hermanus and Arniston. Temperatures are up and mild to hot conditions can be expected with the occasional cold snap as winter makes its final stand before heading off to the northern hemisphere.
Best times to travel
Each season has its own unique charm. The dry season offers the finest game viewing, but the wet season sees the birth of the young and an environment which is lush and green. If you are traveling to the northern part of Southern Africa, including the Kruger National Park, Botswana, Namibia and Zambia, the winter months are best. In the southern part, you will experience the region at its finest between September and April (Spring, Summer and Autumn). These two months are generally regarded as the finest in which to visit Southern Africa if you will be traveling to both the northern as well as the southern countries and regions.